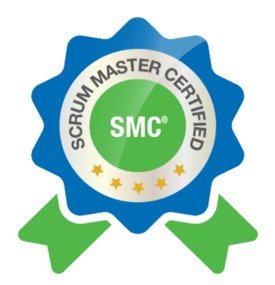 Scrum Master Certified (SMC™) professionals have a practical, working knowledge of Scrum that equips them to implement and work in a Scrum environment. The purpose of the exam is to confirm the applicants have achieved a sufficient understanding of how to apply Scrum in the projects and to tailor Scrum in a particular scenario. SMC™ professionals are facilitators who ensure that the Scrum Team is provided with an environment conducive to completing the project successfully.
The Scrum Master is the "servant leader" of the Scrum Team who moderates and facilitates team interactions as team coach and motivator.
The Scrum Master is responsible for ensuring that the team has a productive work environment by guarding the team from external influences
Who is SMC Most Suitable for?
This certification is appropriate for anyone who is interested in working as a Scrum Master or for someone who is already a Scrum master in his organization. Scrum Master is an important role in any Scrum team and need not be a technology expert to be effective. Moreover, although Scrum is popular in the IT industry, it can be used effectively across different industries. The SBOK Guide, on which the SMC course is based, can be used as an effective guide for implementation.
The Scrum Master guides, facilitates, and teaches Scrum practices to everyone involved in the project; clears impediments for the team; and, ensures that Scrum processes are being followed. Successful candidates will be awarded the Scrum Master Certified (SMC™) certification by SCRUMstudy after passing the certification exam.
Deprecated
: Function _register_controls is deprecated since version 3.1.0! Use Elementor\Controls_Stack::register_controls() instead. in
/homepages/2/d902216232/htdocs/FrameworkProjectsCerticiation/wp-includes/functions.php
on line
6031
What are our past students saying about the training?
I was looking for an IT project manager who would be able to deliver on a few upcoming projects. I contacted Andrea and the rest is history. Andrea is a hard-working, conscientious, motivated and talented individual who has the ability to deliver projects on time and within budget. Very professional and reliable, she also has excellent business analytical and teaching skills. Highly recommended team player who will not disappoint.
Sheldon Davis
Segoso Caribbean
This course was of great value and I highly recommend it to anyone who is beginning to practice SCRUM. Andrea and her team run a very good program.
Richard Lawson
Jamaica Public Service Co Ltd
During her tenure as project manager, Andrea was able to streamline our development process into steady workflow and also guide us a team in terms of project management. Also we got an opportunity to learn the basics of Agile Software Development using the Scrum Methodology. In my opinion Andrea Grant would a an asset to any development team.
Bevon ScarlettBevon Scarlett
Obvious Media Limited
Not Sure Where to Start?
Don't Worry! We Have Free Resources & Consultation To Get You Started